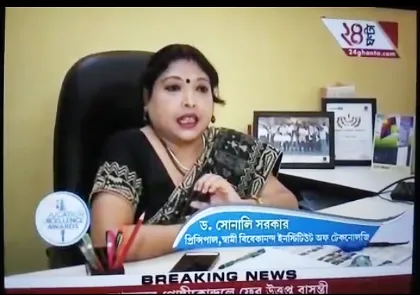 Dr. Sonali Ghosh ( Sarkar ), Principal
Email: drsonalisarkar30@gmail.com
Mobile: +91-9433806989 / +91-7003599978
Dr. Sonali Ghosh ( Sarkar)
Principal
Qualification: B.Sc.(H), B.Tech., M.Tech.(CU), GATE Qualified, Ph.D from IIT KGP with Institute Scholarship.
Experience: 9 years Research experience & more than 20 years of Teaching experience in Engineering Colleges.
Number of Publication : 13 in National & International Journals and Book Chapters.
Worked as Guest Lecturer in BESU, USS, Paper Setter, Moderator, Examiner in Government University/ College,
Worked as Expert in Selection Panel and External Examiner in Engineering Colleges.
Worked as Observer for WBJEE.
Departments