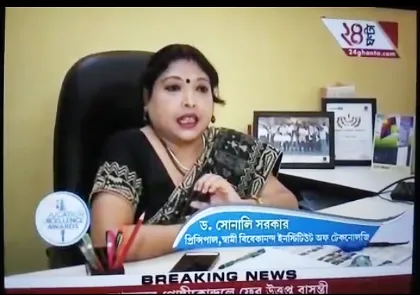 Dr. Sonali Ghosh ( Sarkar)
Principal
Qualification: B.Sc.(H), B.Tech., M.Tech.(CU), P.hd.(IIT KGP)
Experience: 9 years Research experience & more than 21 years of Teaching experience in Engineering Colleges.
Number of Publication : 7.
Email: drsonalisarkar30@gmail.com
Mobile: +91-9433806989 / +91-7003599978
Leading the way of Learning
India's abundant man power is an envy for many so called developed Countries which needs to do transformed to skilled professionals to become human resource. SVIST, motivated by Swamiji's dream to train and educate the young generation has focused in educating the budding engineers so that they can cope up with the ever changing scenario of global challenges. We not only preach high standard of education, but fortify them with latest advancement in the technological field. At the same time we train them to develop into a successful professional for the Corporate world restoring in them ethics and moral values.
The institute has a team of dedicated, experienced and highly qualified faculty members as per the norms of AICTE & MAKAUT. Other than 84 regular full-time faculties , visiting faculties from J.U, BESU visit the campus to share their valuable experience with students to enrich them for all round development to become a successful professional . The total experience of the faculty members sum up to a total of 850 years. Special classes are also arranged for GATE, MAT preparation, Soft skills, Business Communication, Personality Development, Mock & Group discussion & Personal interviews.
Departments