Polytechnic in Computer Science and Technology ( CST )

ABOUT THE DEPARTMENT
Polytechnic in CST (3 Years) is a Diploma level Information Technology course. The program prepares students for the challenging tasks by providing courses from the abstraction level up until implementation and deployment. The curriculum covers the courses such as basic computing, programming, operating systems, networking, database, as well as Mathematics and English. The course is career orienting in nature that opens many job opportunities after its successful passing.
Approved by AICTE, New Delhi, Govt. of India and State Council for Technical Education (WBSCTE) Govt. of West Bengal.
Computing is a part of everything we do. Such as, expertise in a computing enables you to solve complex, and challenging problems. Computing drives innovation in the sciences, engineering & business:- like the human genome project, aids vaccine research, environmental monitoring & protection. Computer science is challenging yet dynamic. It requires people in the field to keep learning and pushing the limit .
Latest Events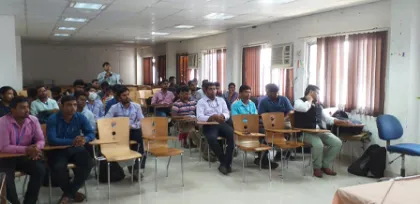 Swami Vivekananda Institute of Science and Technology conducts a seminar on 'Importance of Internships' as a part of Internship Day: Aims to build a culture of meaningful internships in Kolkata The Swami Vivekananda Institute of Science and Technology conducted a seminar on internships on 07.08.2019 in their college. All India Council for Technical Education (AICTE),…
A few of the salient features of our Institution are the witnesses of our commitmen :
State of the art infrastructures including Laboratories, Well equipped & high precision tools & instruments to accomplish field measurements & survey work.
Guidance of a dedicated team of qualified and eminent faculties & Lab professionals who have sufficient industrial exposure to guide our students to be familiar with industrial know-how.
Excellent Library facilities attached with spacious reading room & equipped with LAN combined computers along with wide range of study materials in the form of books, magazines, specialized Journals & E-Books in proud association with British Council.
A dedicated training & placement cell to provide "on the job" vocational industrial training during the tenure of the course and 100% placement assistance to our students at Civil & Architecture departments of reputed companies in various private & public sectors.
Intake capacity: 60 students per year
The medium of instruction and examination is ENGLISH.
Duration of this course is for 3 (Three) academic years.
ELIGIBILITY CRITERIA :Madhyamik or Equivalent with 35% marks without additional for 3 Years Course. Along with 90 Marks in Math + Physics OR should have JEXPO Valid Rank.
** For Diploma courses 75% Students of approved Intake capacity will be admitted on the basis of Counseling through JEXPO Central selection committee and rest 25% by the Institute on the basis of merit & Personal Interviews and a valid JEXPO Rank
Documents Required at the time of Admission:
Attested copy of Age proof Certificate ( Admit Card).
Attested Mark Sheet of Madhyamik or its Equivalent examination.
Rank Card of JEXPO/VOCLET.
6 copies of recent colour passport size photo.
*** Hostel Facilities are available for Boys' and Girls' separately.