B.Tech in Mechanical Engineering [ ME ]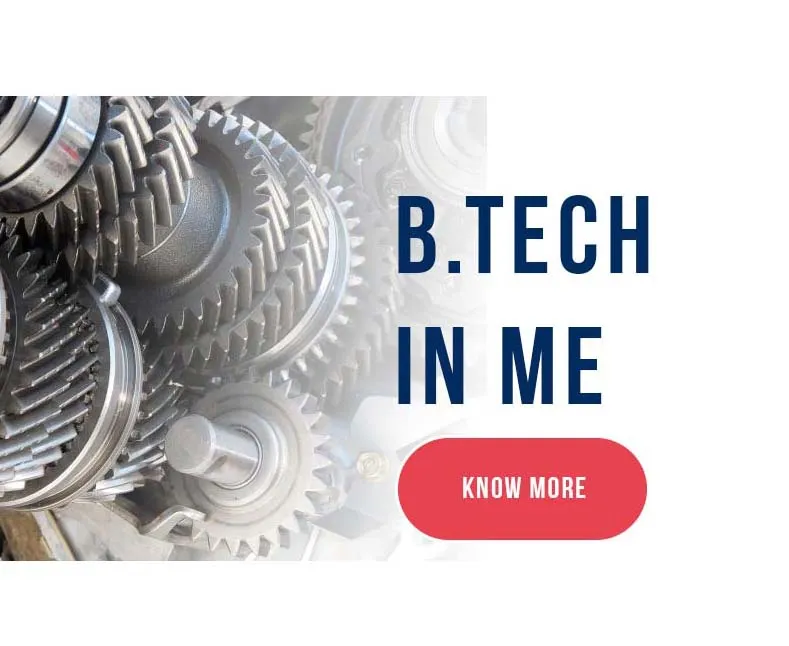 ABOUT THE DEPARTMENT B.Tech (4 Years) in department of Mechanical engineering established in the year 2008 having intake of 120 at present. It possesses good infrastructural facilities, well-equipped laboratories, highly qualified and dedicated faculty and the atmosphere conducive for research activities. Mechanical Engineering includes design, development, manufacture, management, and control of engineering systems, subsystems, and their components. Typically the manufacturing, power, aerospace, automotive, materials, and processing industries employ mechanical engineers. As a result of the recent rapid expansion of technology, mechanical engineers also have become increasingly involved in computer aided design and visualization; robotics; bioengineering; environmental engineering; solar, wind, and ocean energy sources; and space exploration.
Introduction
It has well qualified, experienced and dedicated faculty providing excellent teaching & learning environment. Faculties with industrial background and visiting guest faculties from reputed laboratories bridge the gap between academic learning and industrial needs. With seven state of art software laboratories equipped with latest machines with high end configurations working in fully networked environment, using client server architecture, it provides excellent learning platform to both student and researcher staff alike. Each machine has full access to broadband internet highway and global information banks. It also has a well equipped hardware laboratory which is also supported by simulation platform. A fairly well equipped multimedia laboratory which supports Web design, animation as well as audio visual experimental platform exposes the students to subjects beyond university syllabus. The department has a large collection of reference books and software packages.
Departmental Vision
To envisage an ambience of excellence, inspiring value based education, research and development in Mechanical Engineering with a commitment to guide students with world-class competency and cutting-edge proficiency to face challenges of global market with confidence and practices to societal problems.
Departmental Mission
I. To impart quality education, training and awareness to students to meet the technological and socio-economical needs of the country.
II. To provide State-of-the-art laboratory facilities to create, interpret, apply and propagate knowledge.
III. To incorporate cosmopolitan outlook among the student and faculty, having connection with the industry and R&D organizations for excellence in teaching, research and consultancy services.
Program Educational Objectives
PEO 1: To nurture and groom the students with suitable understanding of Basic Science, Mathematics and adequate Engineering knowledge in Mechanical Engineering domain.
PEO 2: To develop the students for successful professional careers in the field of Mechanical Engineering of private and government enterprises and also prepare them for higher studies in engineering, management and entrepreneurship skill.
PEO 3: To build up the students for ethical practices in profession, make aware of the social aspects of engineering career and the importance of team work in multi-disciplinary context.
Faculty Members
Suman Das
Associate Professor ME 17 Yrs BE ME
Sudipta Nath
Assistant Professor ME 13 Yrs BE M.Tech
Utpal Madhu
Assistant Professor ME 11 Yrs BE M.Tech
Dhrubajyoti Chakraborty
Assistant Professor ME 5 Yrs B.Tech M.E.
Somnath Das
Assistant Professor ME 7 Yrs B.Tech M.E.
Biplab Baran Mandal
Assistant Professor ME 4 Yrs B.Tech M.Tech
Arindam Chakraborty
Assistant Professor ME 4 Yrs BE M.Tech
Pappu Maity
Assistant Professor ME 3 Yrs B.Tech M.Tech
Soumya Singha
Assistant Professor ME 5 Yr B.Tech MME
Subrata Barman
Assistant Professor ME 5 Yrs BE ME
Ranjit Kr. Das
Assistant Professor ME 3 Yr BE ME
Avijit Bhowmick
Assistant Professor ME 2 Yr B.Tech M.Tech 
Gourab Sarkar
Assistant Professor ME 2 Yr B.Tech M.Tech 
Dipankar Das
Assistant Professor ME 2 Yr B.Tech M.Tech 
Arkaprabha Bhattacharya
Assistant Professor ME 2 Yr B.Tech M.Tech 
Souvik Mullick
Assistant Professor ME 2 Yr B.Tech M.Tech 
Barun Kumar Chakraborty
Assistant Professor ME 16 Yrs  B.Tech M.Tech 
Dr. Abhishek Kundu
Assistant Professor ME B.Tech Ph.D
Requirements Details
For B. Tech.: Candidates need to have cleared 10+2 ( P.C.M.) Higher Secondary/ Sr. Secondary Exam or equivalent courses from any recognized board with minimum 45% marks in Physics, Chemistry & Mathematics in aggregate and should be a valid rank holder of WBJEE/AIEEE. According to the present Govt. of West Bengal norms candidates without a WBJEE / AIEEE rank is eligible for admission to our college provided there are vacant seats after counseling. B.Tech (Lateral Entry): After passing diploma eng. with 60% average and no back log from any AICTE approved institute along with a valid rank in JELET, students can apply for lateral admission in 2nd year 3rd Semester.
All Courses