Master of Business Administration [ MBA ]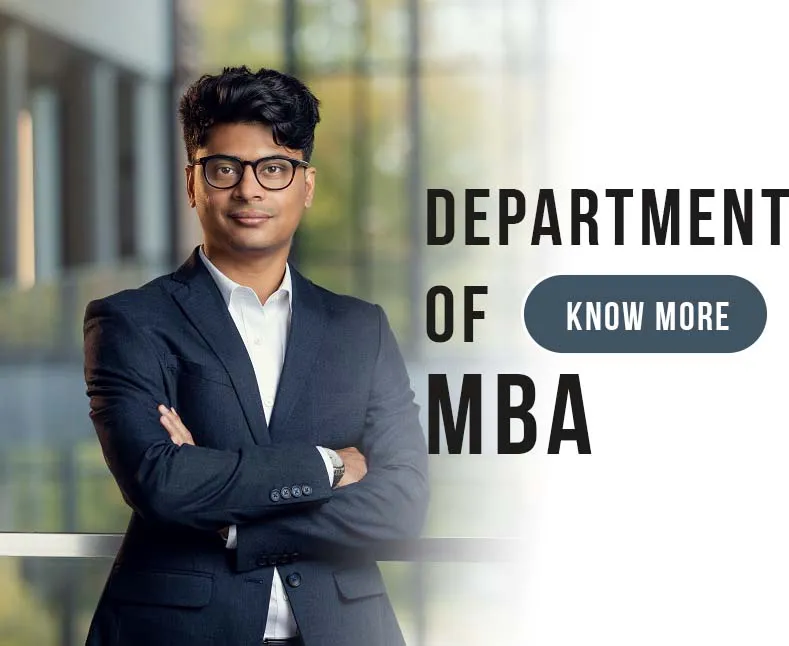 ABOUT THE DEPARTMENT MBA (2 Years) in department of MBA established in the year 2008 having intake of 60 at present. It possesses good infrastructural facilities, well-equipped laboratories, highly qualified and dedicated faculty and the atmosphere conducive for research activities.
Introduction
It has well qualified, experienced and dedicated faculty providing excellent teaching & learning environment. Faculties with industrial background and visiting guest faculties from reputed laboratories bridge the gap between academic learning and industrial needs. With seven state of art software laboratories equipped with latest machines with high end configurations working in fully networked environment, using client server architecture, it provides excellent learning platform to both student and researcher staff alike. Each machine has full access to broadband internet highway and global information banks. It also has a well equipped hardware laboratory which is also supported by simulation platform. A fairly well equipped multimedia laboratory which supports Web design, animation as well as audio visual experimental platform exposes the students to subjects beyond university syllabus. The department has a large collection of reference books and software packages.
Departmental Vision
To come forward as an excellent centre academically and as training provider in breeding and propagating knowledge and providing students a unique learning experience in day to day real life management skills in the light of Swami Vivekananda's vision and providing students an environment for overall development, nurture them for a successful career as well as to contribute to the betterment of the society.
Departmental Mission
To alter attitudes to become better managers
To amend moral values and ethics by changing their mindset
To rejuvenate the learners by infusing positive energy to take the challenges of life.
To empower learners by providing best management education coupled with leadership and professional skills.
To inculcate focus on priorities of life.
Enable students for rational thinking, motivated learning and flair for entrepreneurship through industry institute interaction
Program Educational Objectives
PEO 1 The students of MBA can be able to apply the knowledge of Mathematics, Statistics, Finance, Marketing, Human Resource Management, Organization Behaviour, Management Information System and Law to identify, analyze, formulate, design, simulate and develop the practical solutions for different corporate houses and problems in industry and academia
PEO 2 To enable the scholars with core curriculum knowledge in theory and decision making experiments of MBA to develop the innovative skills in design, simulation, investigation of complex real life problems, critical reasoning, development and testing knowledge for offering solutions to real life managerial problems related to globally evolving processes.
PEO 3 To provide the students with extent knowledge to build the MBA professionals to have the team work and skills for developing communicative abilities, long-lasting learning, and proficiency of project management, finance with entrepreneurial values for overall development.
PEO 4 To give training using a system of multifaceted, multidisciplinary approach to develop R&D skills by MOUs with premier industries and institutions interacting with training sessions and industrial visits for the learners to have awareness on the latest trends, Modern managerial tools and practices of MBA to cater the escalating needs of society.
PEO 5 To build the learners with the aptitude of competitive knowledge of real time requirement of current management scenario by promoting employability and higher education with a blend of ethical, social and friendly envioronment.
Faculty Members
Amitava Gupta
Assistant Professor MBA 8 Yrs B.Com MBA
Swarnaba Das
Assistant Professor MBA 6 Yrs B.Com M.Com,MBA Ph. D(Pursuing)
Ayan Bandopadhyay
Assistant Professor MBA 8 Yrs B.Com MBA
Jayita Nath 
Assistant Professor MBA 5 Yrs B.A. MA, MBA
Debayan Chakraborty
Assistant Professor MBA 4 Yrs B.Tech MBA
Sudipta Dutta
Assistant Professor MBA 3 Yr BBA MBA
Abhirup Chakraborty
Assistant Professor MBA 3 Yr BBA MBA
Arkajit Jana
Assistant Professor MBA 3 Yr B.Com MBA
All Courses