B.Tech in Electrical and Electronics Engineering [ EEE ]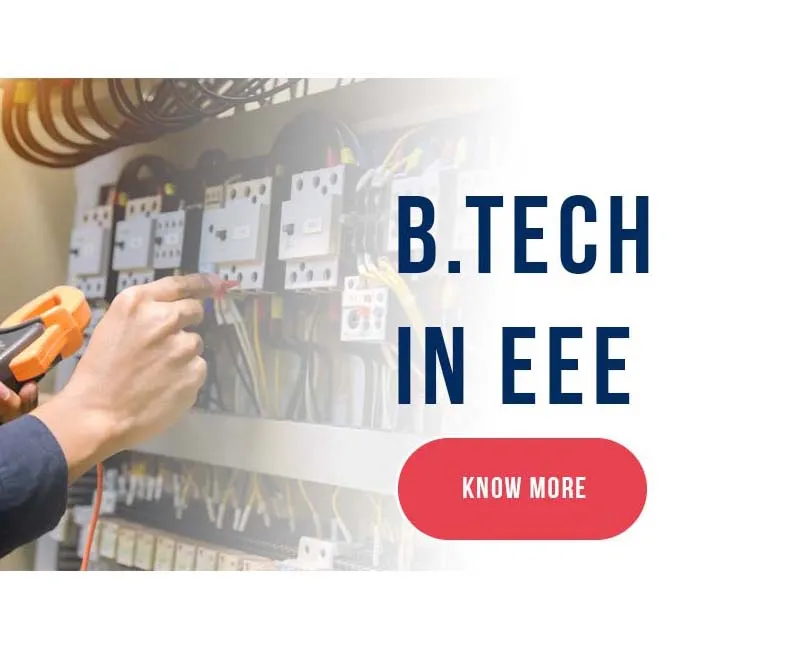 ABOUT THE DEPARTMENT B.Tech (4 year) in Electrical & Electronics Engineering, being established in 2008, having intake of 60 at present, has many feathers on its cap. This department is approved by the All India Council for Technical Education (AICTE), Government of India and the Department of Higher Education, Government of West Bengal.
Introduction
In the modern world, people can never make a comfortable living without electrical energy. Our Electrical & Electronics engineering department has now grown up well to match the international standards of technical education and proud to be among the elite departments of SVIST that help to produce the best professionals in our country. With a dedicated team of faculty, the department has grown up consistently adding feathers in its cap with many laurels. B.Tech (Electrical & Electronics Engineering), being established in 2008, having intake of 60 at present During the course work, students are exposed to various aspects of electrical engineering such as power generation, its transmission and distribution and modern techniques for controlling the whole process.
Departmental Vision
The Electrical and Electronics Engineering Department is committed to produce dynamic young professionals with high technical skills to take the challenge of technically enhanced modern world with a visible difference and remain a source of pride for all Indians.
Departmental Mission
To provide ever improving and innovative teaching methods to the students through high impact teaching learning process, collaborative industrial projects, workshop and seminars on recent technical developments.
To transform students into goal oriented, technically focused graduates with abilities to apply the latest technology, with emphasis on the use of eco-friendly technology adequate with regional and global needs to improve human life.
The students are groomed and motivated to act as role models for transferring the human and national values to the society.
To empower the learners by providing world class education coupled with research and development activities at core and allied fields and professional skills required for different sectors.
Program Educational Objectives
PEO 1: To empower the students to analyze and solve Electrical and Electronics Engineering problems and general aptitude problems by applying basic principles of engineering and mathematics.
PEO 2: To make the students competent with the entrance examinations related to higher studies in India and abroad.
PEO 3: To motivate the students for culminating in different public sectors as well as national and multinational corporate sectors.
PEO 4: To have the knowledge of research & development on recent technologies related to industries of national and international standards, emphasizing on renewable energy resources and satisfy environmental standards.
PEO 5: Framing programs for personality development and professional ethics for an Electrical and Electronics Engineer to conduct in multinational environments.
Faculty Members
Samrat Paul
Assistant Professor EEE 12 Yrs B.Tech ME
Dr. Krishna Roy
Assistant Professor EEE 8 Yrs B.E. M.E. Ph.D
Diptarshi Bhowmick
Assistant Professor EEE 5 Yrs B.Tech M.E.
Pranami Das
Assistant Professor EEE 4 Yrs B.Tech M.Tech
Swagato  Das
Assistant Professor EEE 3 yrs BE M.Tech
Bidrohi Bhattachajee
Assistant Professor EEE 5 Yrs BE M.Tech
Bedprakash Das
Assistant Professor EEE 2 Yr B.Tech M.Tech
Atanu Kumar Sett
Assistant Professor EEE 4 Yrs B.Tech M.Tech
Soumik Biswas
Assistant Professor EEE 4 Yrs BE M.Tech
Requirements Details
For B. Tech.: Candidates need to have cleared 10+2 ( P.C.M.) Higher Secondary/ Sr. Secondary Exam or equivalent courses from any recognized board with minimum 45% marks in Physics, Chemistry & Mathematics in aggregate and should be a valid rank holder of WBJEE/AIEEE. According to the present Govt. of West Bengal norms candidates without a WBJEE / AIEEE rank is eligible for admission to our college provided there are vacant seats after counseling. B.Tech (Lateral Entry): After passing diploma eng. with 60% average and no back log from any AICTE approved institute along with a valid rank in JELET, students can apply for lateral admission in 2nd year 3rd Semester.
All Courses