B.Tech in Computer Science and Engineering [ CSE ]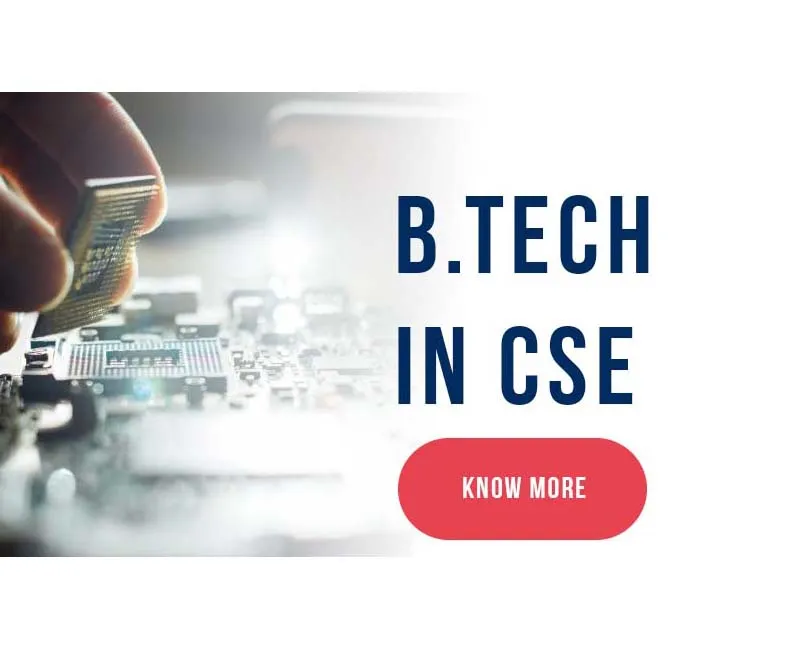 ABOUT THE DEPARTMENT B.Tech(4 Years) in Computer Science & Engineering, being established in 2008, having intake of 60 at present, This department is approved by the All India Council for Technical Education (AICTE), Government of India and the Department of Higher Education, Government of West Bengal.
Introduction
It has well qualified, experienced and dedicated faculty providing excellent teaching & learning environment. Faculties with industrial background and visiting guest faculties from reputed laboratories bridge the gap between academic learning and industrial needs. With seven state of art software laboratories equipped with latest machines with high end configurations working in fully networked environment, using client server architecture, it provides excellent learning platform to both student and researcher staff alike. Each machine has full access to broadband internet highway and global information banks. It also has a well equipped hardware laboratory which is also supported by simulation platform. A fairly well equipped multimedia laboratory which supports Web design, animation as well as audio visual experimental platform exposes the students to subjects beyond university syllabus. The department has a large collection of reference books and software packages.
Course Structure
Departmental Vision
To instil passion for learning and transform students into technical professionals through quality education in the field of Computer Science and Engineering.
Departmental Mission
1. To impart basic thought process of Computer Science & Engineering to assemble knowledge and value based learning through innovative teaching learning process for developing computer based applications.
2. To promote emerged academic ambience by providing emphasis on skilled faculties in the department of Computer Science & Engineering to achieve specific goals and technical proficiencies to apply latest technologies for students.
3. To establish association and participation with industry for quality improvement and assessment.
4. Encourage learners to pursue higher studies through engineering skills acquired and motivate to be a competent entrepreneur to achieve success by overcoming challenges of life.
Program Educational Objectives
The Program Educational Objectives (PEOs) of CSE department are given below:
PEO1: Enrich graduates to achieve imperative Knowledge, Technical skills to gain concepts of Computer science and Engineering.
PEO2: To build methodological approach towards the creativity & decision making ability of computer support systems for analyzing, designing, testing various computer oriented applications.
PEO3: To create competencies for IT industries through which team work and effective leadership quality will be developed, to serve the society, to create opportunities for Higher Studies and to encourage Entrepreneurship.
Faculty Members
Pranab Kr. Gayen
Associate Professor CSE 16 Yrs BE ME
Pradipta Roy
Assistant Professor CSE 16 Yrs B. Sc M.Sc, M.Tech
Kishore Ghosh
Assistant Professor CSE 15 Yrs B.E M.E
Anindita Das
Assistant Professor CSE 10 Yrs B. Tech M.Tech
Sudipta Hazra
Assistant Professor CSE 10 Yrs B. E. M.Tech
Jadav Ch. Das
Assistant Professor CSE 8 Yrs B. Tech M.Tech
Bikash Debnath
Assistant Professor CSE 10 Yrs B. Sc MCA, M.Tech
Basanti Bhattacharyya
Assistant Professor CSE 3 Yrs B.Tech M.Tech
Saswati Achariya
Assistant Professor CSE 7 Yrs B.Tech M.Tech
Dr. Srikanta Pal
Assistant Professor CSE 8 Yrs B.Sc M.Tech PhD
Samik Roychoudhury
Assistant Professor CSE 3 Yrs B.Tech M.Tech
Sumana Kundu
Assistant Professor CSE 7 Yrs BE M.Tech
Requirements Details
For B. Tech.: Candidates need to have cleared 10+2 ( P.C.M.) Higher Secondary/ Sr. Secondary Exam or equivalent courses from any recognized board with minimum 45% marks in Physics, Chemistry & Mathematics in aggregate and should be a valid rank holder of WBJEE/AIEEE. According to the present Govt. of West Bengal norms candidates without a WBJEE / AIEEE rank is eligible for admission to our college provided there are vacant seats after counseling. B.Tech (Lateral Entry): After passing diploma eng. with 60% average and no back log from any AICTE approved institute along with a valid rank in JELET, students can apply for lateral admission in 2nd year 3rd Semester.
All Courses