Career
Vacancy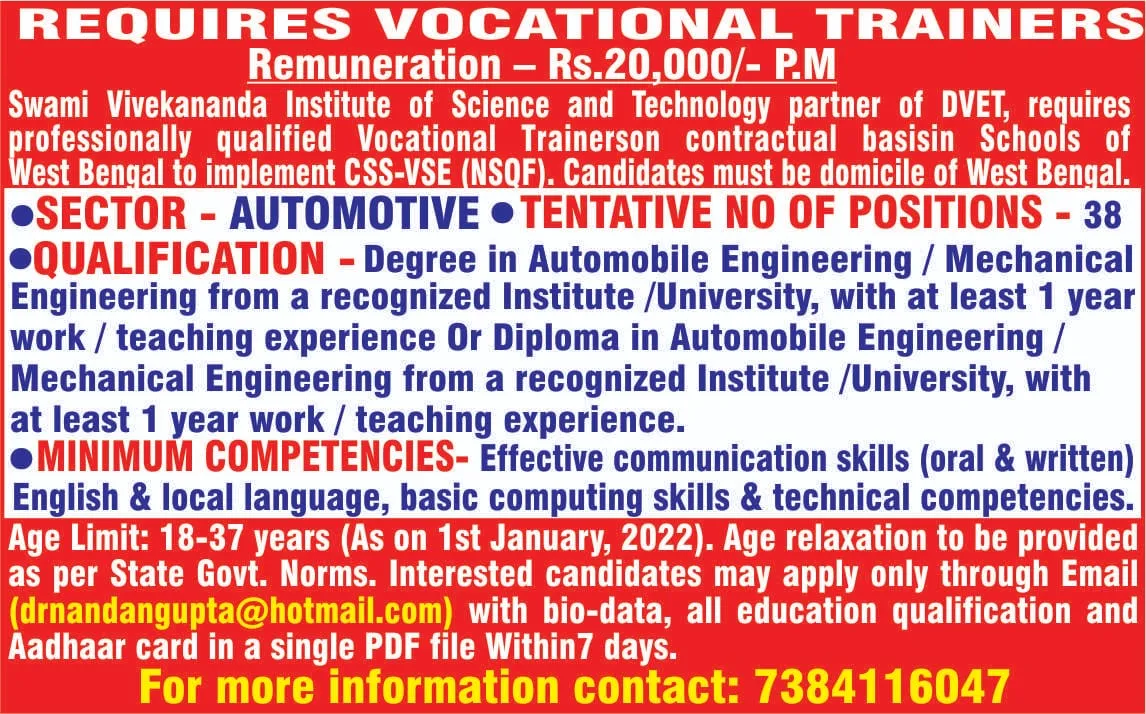 VACANCY
We are looking for: 1) Experienced / fresh candidates for the position of Assistant Professor in CSE & CE with B.Tech , M.Tech, Ph.D or persuing Ph.D. 2) English Faculty with MA in English with minimum 55% in Graduation or Post Graduation, preferably Ph.D. and Knowledge of MAKAUT syllabus is desirable. 3) Admission counseling executive with expertise in admission telecalling. 4) CSE Technical Assistant
Last date of Application: 9th March 2022
Send your C.V to : principal.office.svist @gmail.com
REQUIRES VOCATIONAL TRAINERS
Swami Vivekananda Institute of Science and Technology requires professionally qualified Vocational Trainers on contractual basis in Schools of West Bengal to implement CSS-VSE (NSQF). Candidates must be domicile of West Bengal.
Last date of Application: 9th February 2022
Qualification : B.Tech in Automotive/Mechanical with one year experience Or Diploma in Automotive/ Mechanical with three years experience
Age : 18-37 years (As on 1st January, 2022). Age relaxation to be provided as per State Govt. Rules.
Remuneration : Rs.20,000/- P.M
Mail to : drnandangupta@hotmail.com
For more information contact: 7384116047
Experienced or fresh candidates for the position of Assistant Professor in CSE & CE with B.Tech, M.Tech, Ph.D or persuing Ph.D.
Last date of Application: 29th August 2021
Mail to: principal.office.svist@gmail.com
Admission counseling executive with expertise in admission telecalling.
Last date of Application: 29th August 2021
Mail to: principal.office.svist@gmail.com
Telecaller
Last date of Application: 29th August 2021
Mail to: principal.office.svist@gmail.com